SunnyWeb Design creates personalized management system for every type of companies. With our management system your business can use the power of Internet while taking advantage of its low cost.
A web system can be used from every workstation that has access to Internet. In addition, you will save money on licenses for example, only one price for more than one user and from unlimited locations.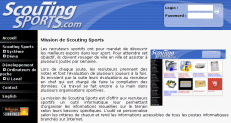 One of our most popular systems was created for sports scouts. It gives them the opportunity to enter their evaluations anywhere and anytime and to analyze data in record time. Scouting Sports is the perfect tool for every kind of evaluations.

Try it on at: v2.scoutingsports.com.
Username: demo
Password: demo
SunnyWeb Design carefully evaluates your needs and creates your personalized management system in order to make your life easier. We understand that your business does not generate profit by fixing computers problems and this is why our systems have a solid and effective frame that gives you the chance to do your most important task: Take care of your customers.
For more information and pricing you can contact us at:
services@sunnyweb.ca or by phone: (418) 520-9900